F2 Savannah Kittens for Sale.
F2 Savannah Kittens. If you are looking for cheap Savannah Kittens for sale you have come to the wrong place. If your looking for quality Savannah Kittens we might have what your looking for. We are offering 2 babies from the litter born July 4th. Prices subject to change as kittens mature.
F2 Savannah kitten for Sale Female $6,000
Call 419 533 3719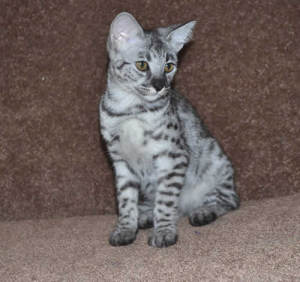 This female is simply stunning. She has a perfect solid black nose. She is a deep silver and one good looking girl. Full of energy and loves to jump. Has a non stop purr. She is ready for her forever home. Has started harness training.
Savannah Kitten F2 Male 1 (SPECIAL) $5,500
Call 419 533 3719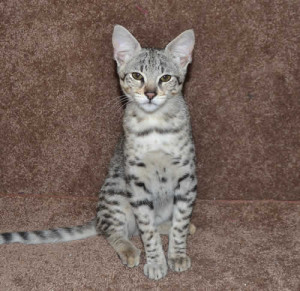 Just look at those amazing LONG legs! This beauty is a light golden color. He does have solid black spots. This savannah kitten is going to be a big boy. He will be a wonderful light color with golden highlights. This boy loves to jump and play. Doesn't like to be carried around but has no problem playing with you and a feather all day long.
Why are my kittens more expensive?
Mommy Of F2 Kittens
Past kitten shown below at 5 months old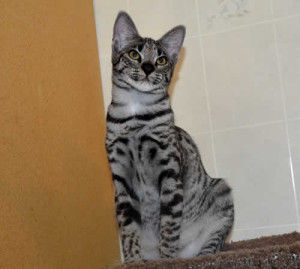 Past Savannah Kittens by OC
 Father of Kittens shown below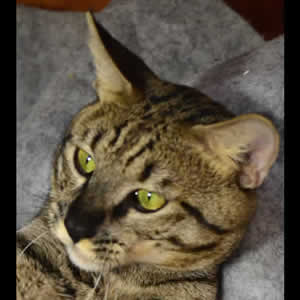 JOVI
When Buying a New Kitten Watch out for "CHEAP"
Amanukatz Savannah Kittens breeds some of the highest quality F2 Savannah kittens available. We pride ourselves on having 3 males to choose from when it comes to breeding.  See our about page to understand the difference between F2 and F6 generations. All kittens for sale come with a full health warranty and TICA papers. We are a long standing Savannah cat breeder located in Ohio.  We offer savannah kittens in all areas but specialize in Ohio, Michigan, Indiana and Pennsylvania. We welcome question about any of our Savannah Kittens.  Please phone us at 419 533 3719. Amanukatz is a "closed" cattery, meaning we don't allow tours.  We do have a savannah kitten pick up room available. We do not hold Savannah kittens without a holding fee placed.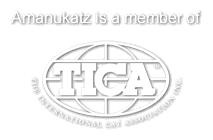 ====================================================
| Male Pricing | Female Pricing |
| --- | --- |
| F1 Savannah Kittens $10,000-17,000 | F1 Savannah Kittens $10,000-17,000 |
| F2: Savannah Kittens $6,000-$7.500 | F2: Savannah Kittens $6,000-$7,500 |
| F3: Savannah Kittens $3,000-$4,500 | F3: Savannah Kittens $3,000-$4,500 |
| F4: Savannah Kittens $1,500-$3,500 | F4: Savannah Kittens $1,500-$3,500 |
| F5-7: Savannah Kittens $1200-$5,000 | F5-7: Savannah Kittens $1200-$3,000 |